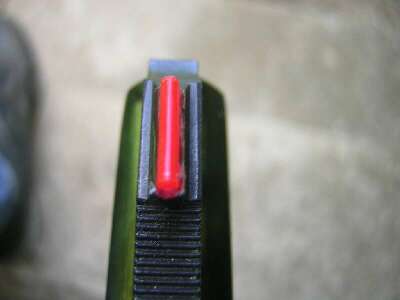 1/16" diameter rods red and green only. 3/32" rods red, green and yellow.

The photo on the right shows a 3/8" section of a 1/16" red rod on my T-C Contender 357 mag barrel. Click here for a photo of a 1/4" section of the same red rod on my Ruger Super BlackHawk pistol.

One 10" rod will make many front sights. The tools needed are:
a pocketknife
a triangular file
a toothpick
epoxy
Click here for SBH installation instructions.
For non-USA shipping click here.
Use the PayPal links below or send cash, check, MO, or U.S.A. postage stamps to:
---
Kim Doughty-Ganey
3306 Big Oak Drive
Tyler, Texas 75707
---
| | |
| --- | --- |
| Red 1/16" x 10" fiber optic rod @ $2.50 each | |
| | |
| --- | --- |
| Green 1/16" x 10" fiber optic rod @ $2.50 each | |
---
| | |
| --- | --- |
| Red 3/32" x 10" fiber optic rod @ $3.50 each | |
| | |
| --- | --- |
| Green 3/32" x 10" fiber optic rod @ $3.50 each | |
| | |
| --- | --- |
| Yellow 3/32" x 10" fiber optic rod @ $3.50 each | |
---
Home