These sourdough biscuits are a great crowd pleaser! This is one of the first recipes I get asked to bake in fish camp or deer camp. This recipe can be made either with baking powder, or without. I usually use the recipe with baking powder when I'm baking in cold weather (like in deer camp). Sourdough does not like to rise much under 75 degrees.

If you leave out the baking powder and let the dough rise longer, you will have a true yeast risen sourdough biscuit.

Please get your sourdough starter going and give these biscuits a try! I know they will be a winner for you! (Click here for the starter recipe.)

Let's make sourdough biscuits!

Mix wet stuff.
2 cups ACTIVE sourdough starter
1/4 cup cooking oil—butter flavored is good

Mix dry stuff.
2 cups all purpose flour
1 tbl baking powder(optional)
3 tbl white sugar
1 tsp salt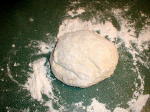 | | |
| --- | --- |
| | Making and kneading the dough ball. |
Add dry stuff to wet stuff.

Lay out on work surface.

Knead and work up dough. Add a little water or flour to get it right (dough ball should not be sticky feeling).

Let dough rest 10 min.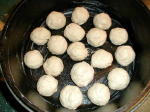 | | |
| --- | --- |
| | Golf ball size pieces of dough in a Lodge 12" Dutch oven |
Pinch off and form golf ball sized dough balls.

Place in well greased 12 inch Dutch Oven and let biscuits rise in warm place.

If you are using the recipe with baking powder, let rise 1/2 hour.

If you are not using baking powder, total kneading time is 10 minutes—total rise time is a little over an hour, or until biscuits have risen to about double in size.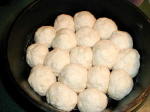 | | |
| --- | --- |
| | 1 hour later. Ready to bake. |
Bury Dutch Oven in coals—bake 15 to 25 minutes—check now and then, when golden brown on top they should be done.
Let's eat!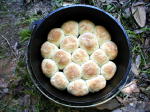 | | |
| --- | --- |
| | Ready to eat. Pass the butter! |
Coal cooking time will vary a lot—you have to keep your eyes on these biscuits!

That's all there is to it—you can do it!!